Blodeuwedd Untold – Jo Blake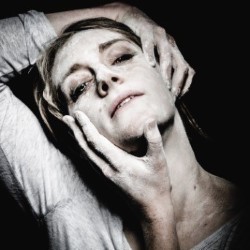 Unearth the unwritten Blodeuwedd, the Frankenstein of flowers. Captured in the pages of a medieval book, the ancient myth of Blodeuwedd describes a woman made out of flowers who was turned into an owl as punishment for adultery. But who was this woman before being confined to the page? Jo Blake, international contemporary storyteller, irradiates this figure of Celtic myth through word, movement and ritual. The myth is unravelled in this radical reclamation of the untold; intertwined with personal experience and striking observations of the role of myth in our unmythic modern lives. (Blodeuwedd: blod-ae-wuth).
.
What was the inspiration for the work?
I have always been enthralled by the role of the storyteller – that figure who carries within them a vast repertoire of mythic narrative, and engages an audience with little more than words and body. For me, storytelling is the root form of theatre. However, after over ten years of professional storytelling, I was deeply frustrated by the standard conventions which felt limited and inherently patriarchal.
Rather than honouring an idea of what traditional storytelling ought to be, my question became, 'what does a storyteller need to be now? And what are the myths for our times?' Blodeuwedd Untold developed as a response to these enquiries, through my PhD research, generating a storytelling form that deconstructs expectations of storytelling, and embraces a feminine, bodily, emergent practice that seeks to tell, both through form and content, the other half of the cultural narrative that has been submerged, forgotten or written out of history.
What kind of wider impact in terms of conversations do you hope the work will produce?
Conversations about the rise of the feminine, and the reclamation of female voices and experiences.
Recognition of the power of myth as a living entity that doesn't simply narrate reality, but shapes it.
Offering a mythic lens through which to view the current climate emergency as significantly generated on account of our disconnection to all that is associated with the feminine – bodies, nature, intuition, myth – and a suggesting that reengaging with these aspects of lived experience is a significant form of activism that may lead us to a sustainable, ecologically connected future.
How far does the content of the work influence your dramaturgical process? (or – what is the relationship between form and content?)
Massively! My experience is that myth speaks to and through the body. The images in the myth of Blodeuwedd are strange and irrational – shapeshifting, dream-like. We can of course psychologise these images, unpick them and understand them intellectually. But, before we do this, if we allow it, they resonate deeply in the chamber of the body first, speaking through feeling-tone and movement qualities. In this way, Blodeuwedd Untold makes space for the body to have its voice… to speak its experience of myth, by allowing the body to move in other-than-daily ways. The piece brings together a more recognisable storytelling form with movement and ritual to enable the myth to speak on different levels.
How does this show relate to your usual process or content?
As a storyteller who also trained in contemporary dance, my work sits at an intersection of storytelling and dance theatre. Blodeuwedd Untold is weighted more to the storytelling side of the practice, whereas my next piece is a collaboration with a dancer, based on the myth of Isis and Osiris, and will be more body-based. Myth or fairytale is always the starting point of my practice, and through an emergent process, I allow the story to suggest the form it needs in order to be told right now to reach contemporary audiences.
What makes you want to make theatre rather than another art?
The shared space of live performance is magical! I really feel that these stories can't live fully without the presence of listeners… the audience somehow calls the story forth. I don't write the stories down, so they really do only live in the live moment of each telling. When the conditions are right, the experience is one in which the myth seems to live in the space between performer and audience, not entirely within the body of the performer.
Is theatre – and the Fringe – a good place to provoke conversations?
I think performance can provoke strong experiences, which can lead to conversations. However, there aren't always the platforms or opportunities to really explore these, especially with the turn around between shows so tight at the Fringe. It would be great to have more space and time for audiences to unpack performances with the artists, in a dialogical way, rather than live performance being something that is done for/to an audience and then whisked away.